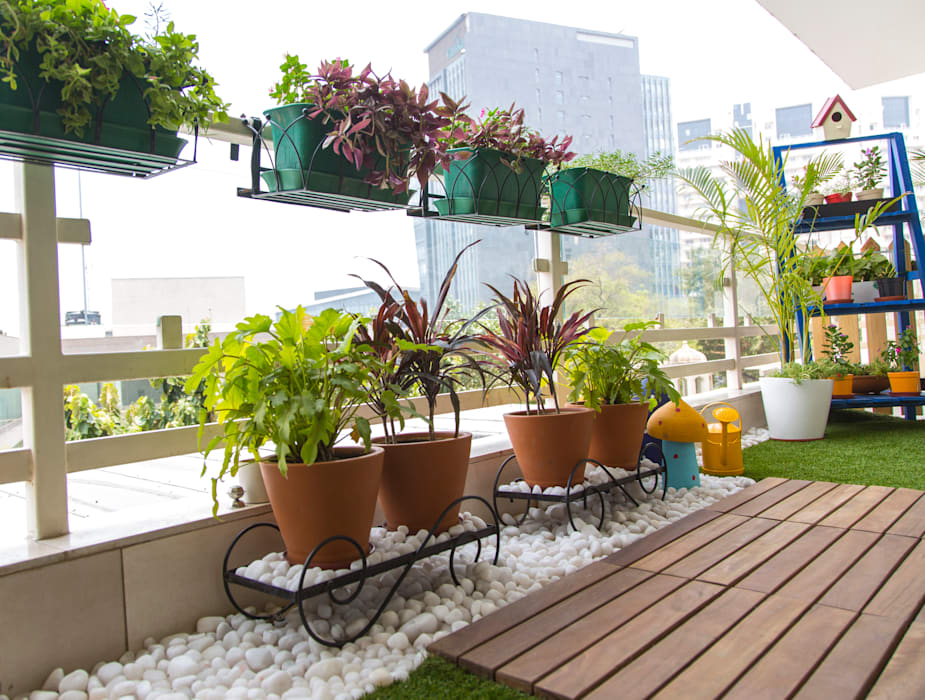 Sprawling green grass, lush flowers, a hanging garden to veggies, and several ornamentals, a beautiful balcony garden is a true delight. If you are creative, you can transform your balcony garden and give it an awesome look. Given here are a few useful tips that can help you add value to your balcony garden space.
Select Plants That Are Ideal for Terrace Gardening:
To make your terrace look good, terrace gardening is a great idea. If you wish to grow veggies then there are certain options like chili, bush beans, fenugreek, Malabar leaves, tomatoes, radish, etc.
You can also choose to use colorful flowers that can make your garden space smell awesome like Rose, Marigold, Hibiscus, etc. or medicinal herbs like mint, Tulsi, etc.
Select a Suitable Space:
Choose a space where you can get an ample amount of sunlight for extended hours so that you can enjoy chilled winters. Arrange plants according to their sizes.
Decorate Your Railings:
Allow a few creepers over your railings to beautify and glam it up. All along the railings, you can install a shelf or hanging flower box to create a good visual impact. Choose to illuminate your railings with paper lanterns and soothing lights.
Install Some Bird Feeders:
You can prefer installing bird feeders and keep them filled all round the year. This attracts different types of birds. Some birds prefer suet feeders so these can be a good addition to your balcony. The chirping of birds in the balcony garden can fill the entire ambiance with positivity.
Water Feature Adds Ethereal Charm to Your Garden:
The presence of several natural elements like rocks, plants, and water can capture the ethereal charm and can be simply captivating. You can transform the open space and add an absolute delight. An earthen bowlful of water lilies or small portable water fountains can be a great addition.
Choose to Add Celebratory Lights:
The tropical climate in India makes it tough to sit out. If you want to enjoy your terrace then you can choose to add some evening or night-time celebratory lights that can make you enjoy the entire beauty. There can be garden lanterns, shiny disco balls, colorful twinkling fairy lights, and more. You can party around in the garden.
Display your passion:
Whatever interests you have whether it is arts, crafts, cooking, or whatever, you can choose your terrace as a display area. You can choose to create an informal and relaxed ambiance. You can choose to get hold of good-quality and appealing garden furniture painted with the right colors and fabrics to beautify your garden.
A beautiful balcony garden adds value to your homes and can be a great place where you can have perfect peace of mind. You can choose to be innovative and can try different and new methods of decorating your balcony garden. Decorate and beautify your garden with various green plants, try bird feeders, creepers, illumination to create a perfectly relaxing and charming ambiance.